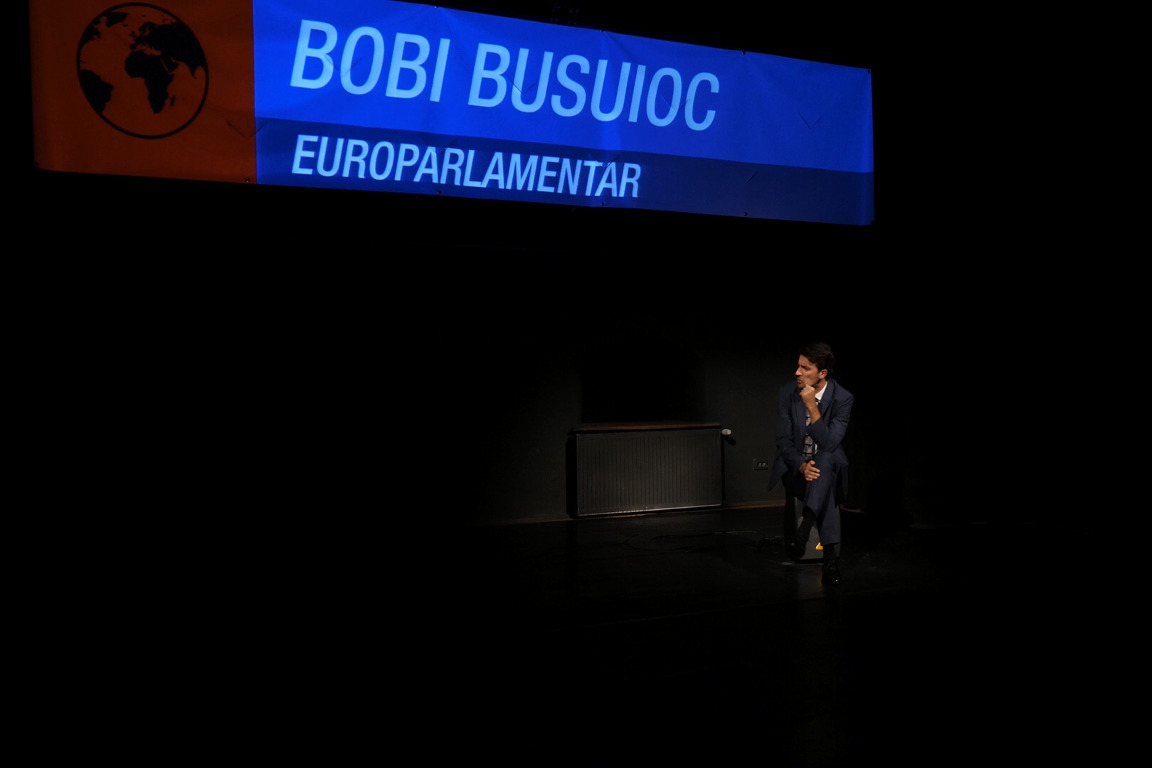 The show tells the story of Bobi Busuioc, a story about how we end up drifting apart from our principles which guide us through lige: a story of how hard it is to win in life and how easy it is to lose it all.
Bobi Busuioc is a man who changes his words like the wind changes direction. Today he's building a modern village, and tomorrow he's destroying his own masterpiece. He strongly believes in everything that he does or say, evan though he's fighting against himself. At one point he believes so strongly in his own utopias that he chooses the wrong path. 
"I remember that in the fall of 2017 I was in Munchen, attending a scholarship and Andi called and asked me if I was interested in writing a one man show about an MEP. I agreed because it was something completely new for me, something different from everything I have ever written up until then. Before this event I would have never thought to write about a politician. I enjoyed a lot the context in which I had to write this one man show: an international collaboration of five European theatres. In every country, a playwright had to write a one man show about a fictitious MEP from his country. This is how I ended up writing the story of Bobi Busuioc. I work in journalism and I encountered many politicians, in general I'm interested in what happens on our political stage, but I have to admit that my interest regarding what happens in the European Parliament was not that high. When I went to Amsterdam last year and saw the Dutch performance, about an MEP, the actress that performed and wrote the play told me that she also didn't knew as much about the topic, but this was what motivated her to make research and create a show about this. I enjoyed creating Bobi Busuioc. I think he's telling a very special story that sometimes can seem unbelievable, but as well this story can be the story of any politician in our country."

Elise Wilk
Bobi Busuioc is a fictitious character. Some of the facts happened somewhere, sometime, in Romania. Others can probably happen.