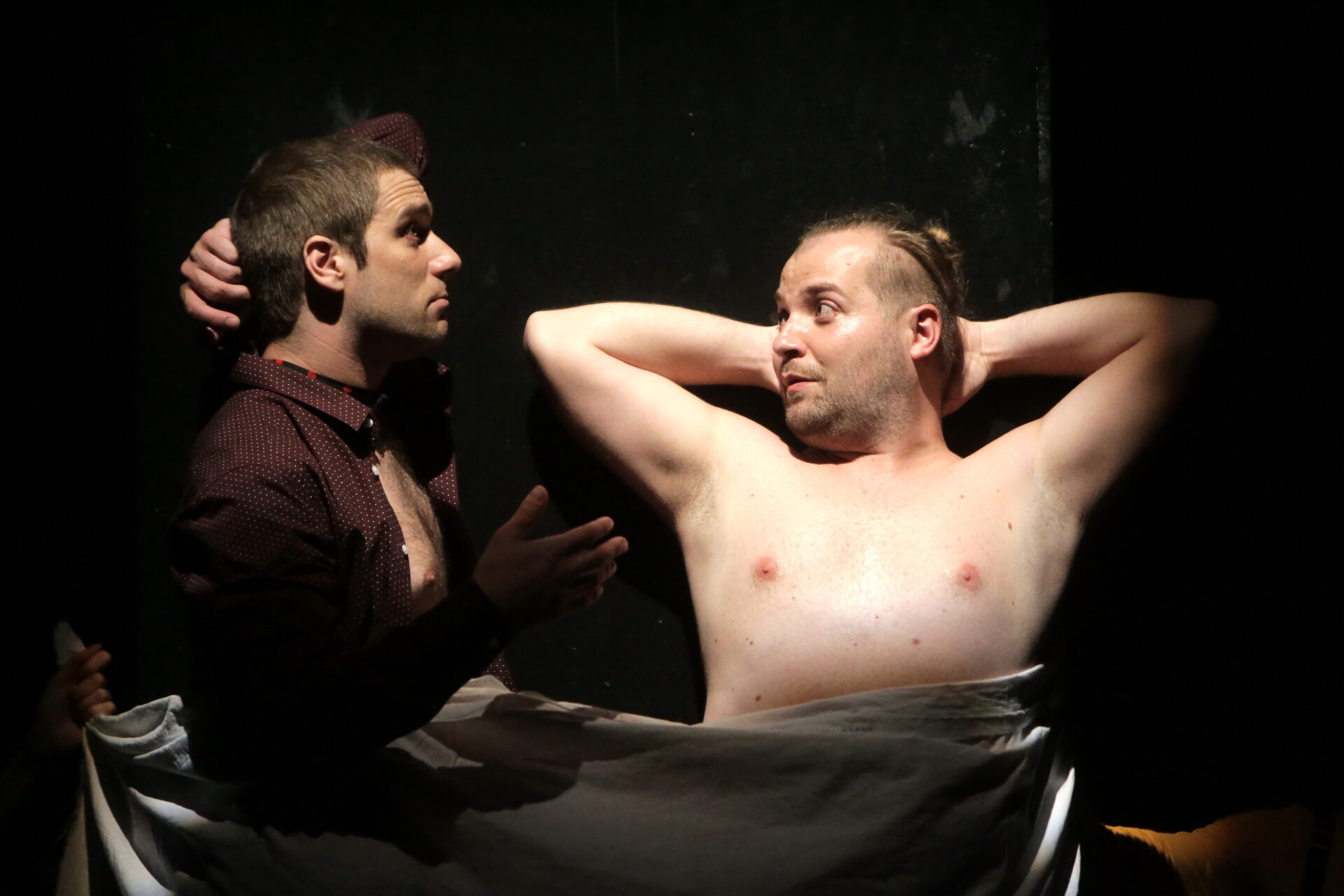 Joy and happiness speaks about a sensitive matter; the situation of the gay community in Transilvania. But in fact, this subject is not at all sensitive, because the society accepts homosexuals. All they have to do is to not express it and shut up about it. And pretend they're something else, something they're not. This way everybody is happy. The play presents the life of ordinary people. Women, man, townspeople ,villagers, gay, straight. Parallel destinies that encounter and separate. Minor fights, fake problems, minor hysterias. Nothing important. They are happy people. 
Székely Csaba and Ándi Gherghe, with the team of actors: Fodor Piroska, Benedek Botond, Orbán Levente, Kovács Károly, Nagy István, Badics Petra și Szász Réka will make us face eventually a tragic story, but treated with humor and playfulness. Joy and Happiness will take us in the LGBT world of Transilvania in a playful, rough, sensitive, sophisticated and rudimentary manner – a trip somewhere Holland and Cecenia. Tourists will benefit of heterosexual guidance. Join us with joy and happiness! 
The show is produced by 3G, in the: Social therapy through contemporary theatre, co-financed by AFCN – The Administration of the National Cultural Fund and the City Hall of Targu Mures. 
"You can't force a change of mentality in someone's head, you have to be patient for them to realize on their own, which takes time, but I believe we can help to develop an environment in which is more easy to be tolerant. The hungarian community from Romania never saw gay people on stage before. Now they received from 3G and from the wonderful artists who realized that this show has the possibility to make people connect and get to know each other better. This is the first step to tolerance, we now need a few hundred more."

Székely Csaba, vice.ro
"In this show you can find plenty of humor: the scene where Károly Kovács and Orbán Levente are dancing cheek to cheek is epic, beyond of the symbols that this scene carries throughout the performance; because of the actor Orbán Levente (who played in the awarded movie of László Nemes, The son of Saul) could promote heterosexuality. Using this actor to perform a role of contre-emploi is a statement, I don't know if it's on purpose, a statement against labeling people by appearances, and an irony, absolutely on purpose, against the cliché image of homosexuals in the mind of the society." Four performances about referendum & LGBT 
"There's nothing, no abnormality of the daily life that can escape from the vigilant eye and pen of Székely Csaba, pen that sometimes is transformed into a knife. (…) The interesting thing about Székely Csaba's play is that the author doesn't play nice, the gay characters of the play don't know how to manage their status, as homosexuals in the community. They are tormented by prejudices, fears, trying to escape their own condition, like they could separate from their own shadow. They settle feeling joy and sacrifice their happiness. " Mircea Moraru – Yorick –  What's the limit you have to cross to get from joy to happiness and how much does it cost crossing this line? 
"A moment of great directing inspiration takes place in the end, when the violent climax of the show is represented by the team of actors in a musical note, the lines being sang and completed with the help of musical instruments. " Andrei Vornicu – The Truth – A minority inside of a minority 
"Fodor Piroska, Benedek Botond, Orbán Levente, Kovács Károly, Nagy István, Badics Petra, Szász Réka is the team of actors that tell this story of joy and happiness. Under the direction of Andi Gherghe, a sensitive director and an expert in Székely Csaba's plays, this story is told with such good humor that you can't resist not to laugh or empathize. "  Claudiu Groza – The Tribune – Theatrical geography (IV)
Play by Székely Csaba
with Fodor Piroska, Benedek Botond Farkas, Orbán Levente / Korpos András, Kovács Károly, Nagy István, Badics Petra, Szász Réka / Magyari Izabella
assistant director Simon K. Attila
director and setting Ándi Gherghe
foto Cristina Gânj
opening date 7 octombrie 2017
length  1h 30 min.
language Hungarian with Romanian subtitles