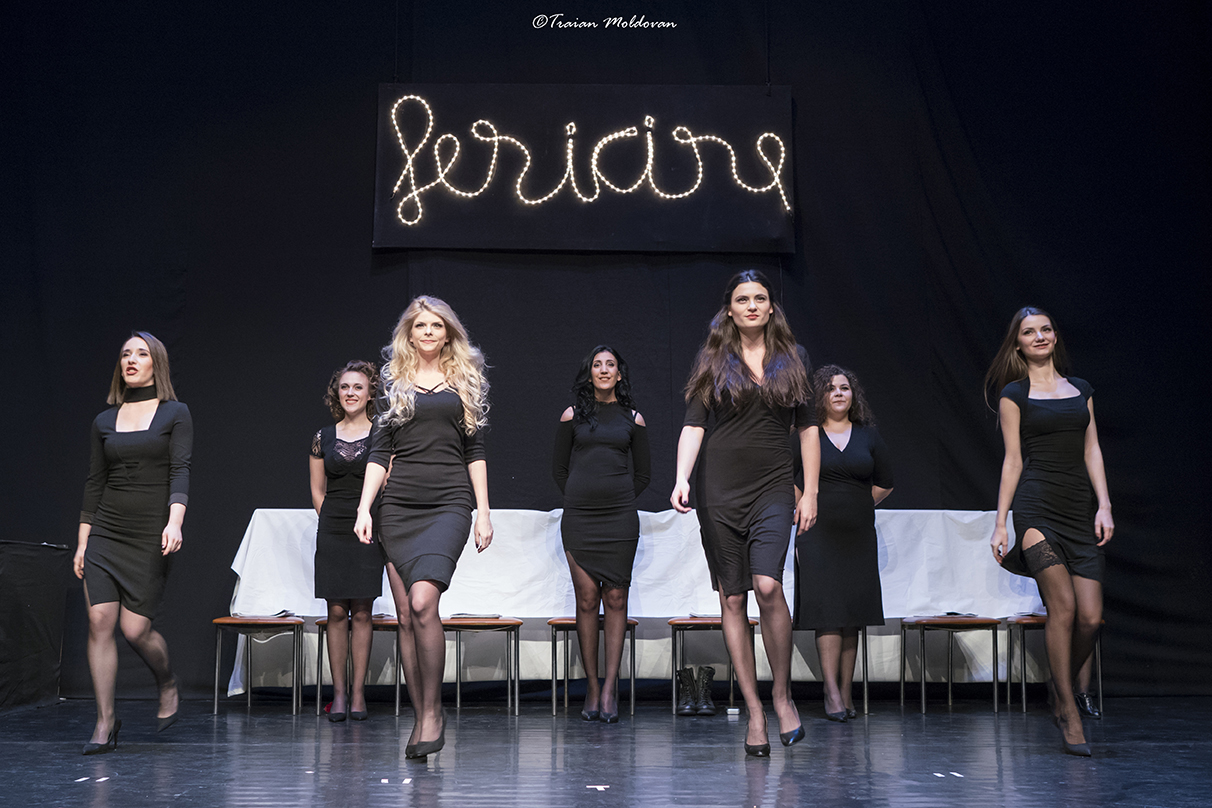 Mede/EA or About domestic happiness is a performance created by the students of University of Arts Targu Mures, in 2017, under the direction of the professors Monica Ristea and Elena Purea. The play, written by Roxana Marian, reinterprets in a contemporary manner the myth of Medea and Jason.
The word happiness shines in the background, a choir of eight beautiful women, representation of the ideal women, sexy and confident, childish and fatal, the alive representation of the word that sparkles in the background, share with us their shiny vision about happiness. Instead of saying we can do this!, they call it to our faces, that this is what happiness looks like. Although in an abstract manner, they must search happiness with all cost, because they have this right, this duty. The show is an invitation to sincerity.
"In essence, the play is built from the interior monologues of the two characters. The show created by the students under the direction of their professors Monica Ristea and Elena Purea, breaks the convention of two performers and brings to the stage seven different versions of Medea. Each female student is Medea, but in different stages of her life. Basically, in every scene with Jason, Medea is portrayed by another student. The same story, told by Roxana Marian, but in a different staging and form. In this incompatible relationship between Medea and Jason, there's a character that with playfulness jungles and interferes in the events, Eros, the cunning God of love, but the one that truly demolishes their love story is Glauke, the daughter of King Creon. The performance is executed with precision, grace and team-work. "

Soós Edina – kritq.eu
3G Hub takes under its roof the performance created by the graduates of UAT, because it is performed by a group of young and talented actors. Also, the play being written by a contemporary author, the production fits very well in our mission of promoting contemporary Romanian dramaturgy.
"… In a manner that is similar from the speech of a one women show, a successful experimental gender, Roxana Marian's play relates to the main components of a theatre play: actor, choir, narrator. The character express themselves visceral even though they never communicate with each other, the binder between them is the story itself. The dialogue takes place between the performer and the audience, and the dramatic tension is created through rehearsals, gradually rising up, until it reaches the climax inside every scene. …" Alina Nelega – LiterNet.ro – Roxana Marian: Mede/ea or About domestic happiness