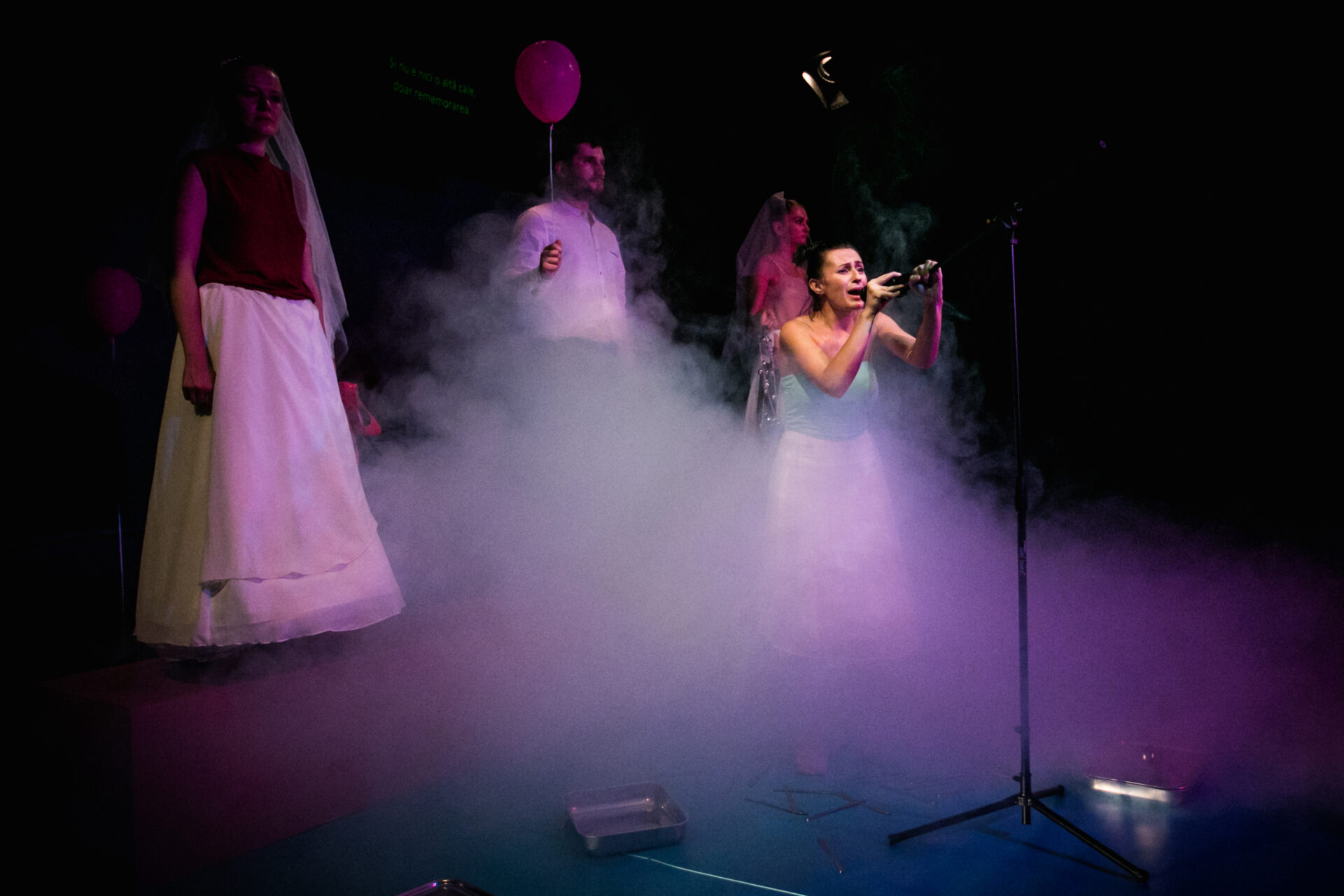 Three women and a man meet on the same day that they are getting married. The wedding becomes a major event, but not in a conventional way. What can happen to a party where none of them feel in the seventh heaven? Neverland follows the four characters in the most important moments of their lives, either great losses or days that the sun seem to shine differently.
Kinga, Rada, Andreea and Fabian want to live a normal life even though there's the risk of becoming common and unnatural. What happens when you force yourself into social patterns and what are actually our dreams? The performance is an invitation of seeking our own Neverland, the place where that liberty we forget to come back doesn't exist.
Neverland was produced by 3G Hub, during the project: Social therapy through contemporary theatre, Co-financed by AFCN and the City Hall of Targu Mures. The show was produced with the help of our partners Reea and Theatre 74.
"It existed only the idea of Peter Pan, the nostalgia of childhood and the refuse to grow-up. This was a project I had discussed with Leta 2-3 years ago, but never got produced, so when Andi gave us the liberty to do whatever we wanted, we decided to do it. We had a very wide theme so we could let our weirdness free, I wrote especially for this show. I spoke with some people, I stole some of their stories, then I wrote and rewrote during rehearsals."

Alexa Bacanu
"(…) some sort of a romantic-anxious parody about the dilemmas that orbits around the idea of getting married and everything that is related to the new status you'll earn through marriage. With the usage of small musical insertions – the composed Boros Csava – , uses a comical tune. The show stands out because of its vitality, playfulness and the charm that the team of actors bring onto the stage." Claudiu Groza – The Tribune – Theatrical geography (IV)
"The actors function on two directions: playfulness – the four characters are narrators either for themselves or for others – and performative (body, movement). The dramaturgy resembles the plays of Ivan Vîrîpaev, Illusions, without having the same ability of creating biographical puzzles. The story, as the show, curdles slow, risking of losing the audience's attention. Based on a mosaic and performative dramaturgy, Neverland is an expository show about the relationship that exist between our projection on life and life itself." Oana Stoica – Dilema Veche – About us, in many ways
"The setting is minimal and that is why it works so well for this type of performance. The show doesn't need realistic setting or a more strong and specific contextualization. Alexa Bacanu knew how to manage the essence of the massage he wanted to send through a dramaturgy full of emotions, that doesn't hold back from speak out loud about the subject. Leta Popescu transformed this vision in a major display of power." Razvan Rocas – Echinox Magazine – Seeking our own Neverland